Fundraiser Brochure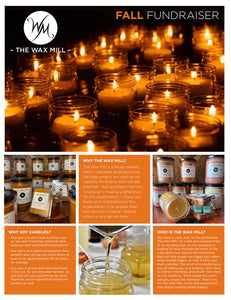 Fundraiser Cover Page
Introducing our exquisitely crafted fundraising brochure, tailored to meet your fundraising requirements. We've thoughtfully selected 14 of our top-selling scents to present to you!
Fundraising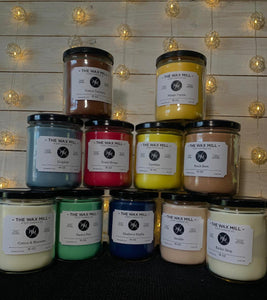 Product Lineup
The inside pages of our brochure displays our product lineup. These pages offer a picture of each candle, plus a description to help your customers make the perfect choice!
Fundraising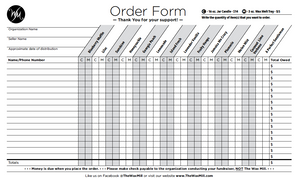 Order Form
To wrap it up, we will work with you every step of the way to make your fundraiser a complete successful! Email us at thewaxmill18@gmail.com for more information.
Fundraising
About Us
Allow me to introduce The Wax Mill. Founded by a dedicated mother of six wonderful children, I've spent years homeschooling them and embracing the joys of learning together. Now, as my youngest progresses, I've embarked on a personal journey, and that journey led me to candles. Candles hold a special place in my heart - their fragrances, ambiance, and the emotions they evoke are truly captivating. Opting for soy candles was a conscious decision due to their clean burn and extended lifespan. As a busy mom, it's crucial to me that the candles I create are worry-free and free from harmful chemicals, aligning with the needs of fellow moms who understand the time constraints and concerns we face. The Wax Mill isn't just about candles; it's a heartfelt endeavor to provide a solution for many. That's the essence of who we are.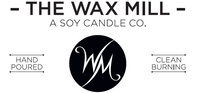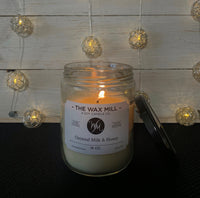 Our Product
Discover our exceptional product at The Wax Mill. Every soy candle we offer is meticulously hand-poured with pride. Our commitment to quality shines through as we exclusively use natural soybean wax sourced from American farmers. We take pride in supporting our farmers and their livelihoods. Each of our candles is crafted using premium fragrance oils and all-cotton wicks, ensuring an exquisite scent experience. The harmonious blend of natural soy wax, superior fragrance oil, and all-cotton wicks results in a candle that burns immaculately and fills the air with delightful aromas.